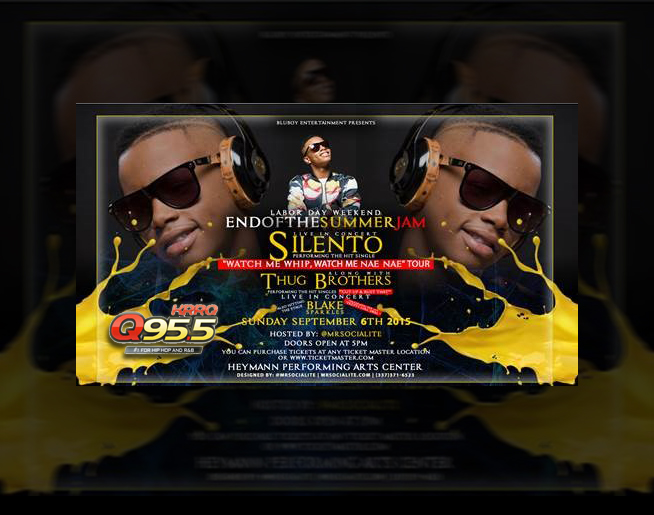 Win tickets to Sliento show at The Heymann Performing Arts Center on Sunday, September 6th by listening to Q95.5!
Atlanta-based rapper Silento broke out of the underground as a teenager in early 2015. That's when his single "Watch Me" — recorded the previous December and released independently a month later — inspired a wave of fan-made dance videos due to lyrical references to the whip dance, the nae nae, and the stanky leg. Over the course of one week, the single, made with Bola da Producer, racked up over two and a half million U.S. streams. The spike sent it to number 19 on Billboard's Hot R&B/Hip-Hop Songs chart. The following week, the song crossed into the Hot 100 chart at number 86. Currently "Watch Me" Is now number 60 on the Billboard Top 100.
For more chances to win, follow @Q955KRRQ on twitter, Like us Facebook.com/KRRQ955, and friend us on Instagram/Q955. Make sure your listening and interacting because you and a friend could be going to see Silento at The Heymann Performing Arts Center on Sunday, September 6th!
SHOW & TICKET INFO:
END OF SUMMER JAM PERFORMING SILENTO LIVE!!!WATCH ME WHIP…NAE NAE , THUG BROTHER AND BLAKE SPARKLES

On sale to General Public Starts Mon, 08/10/15 10:00 AM

Please Note: Everyone needs a ticket except a child that has not celebrated their 2nd birthday.
Go to http://www.ticketmaster.com to purchase tickets.